BY TAMARA PUPIC
SPACE
YOUSIF AND MOHAMMED AL ABD co-founded Solva Technologies in July 2017 to offer an environmentally friendly solution to last-mile and express delivery fleet owners. "A friend of mine who works in a statistics unit told me that there are 198,000 piston-engine motorbikes in the UAE, 75% of them owned by businesses," Mohammed says. "We wanted to create a solution that reduces the carbon footprint of our country."
The brothers' timing is good. In 2017, the UAE launched "Energy Strategy 2050" to increase clean energy to 50% of the total energy mix by 2050 and reduce the carbon footprint of power generation by 70%.
Yousif stresses that Solva Technologies is not just an electric bike manufacturer. "It is a smart learning machine and cloud-based platform that supports the fleet electrification process," he says. "It is a solution."
Two years ago, the brothers had no experience in the electric-vehicle sector. "Instead of reinventing the wheel and manufacturing our own electric motorcycles, we decided to buy those that had good reviews in the international market," says Mohammed. With their own savings and investments from family members and a few angels, they travelled to fairs and factories in Europe, the US, and China to buy 30 electric motorbikes.
However, they discovered limitations in speed, range, stability and charging time. "The performance of electric bikes is weather related," Yousif says. "For some of them, it was true that they were internationally successful, but they did not meet the minimum requirements of a delivery company in the UAE." The brothers decided to manufacture electric motorcycles capable of withstanding the UAE's summer temperatures of 45 degrees Celsius.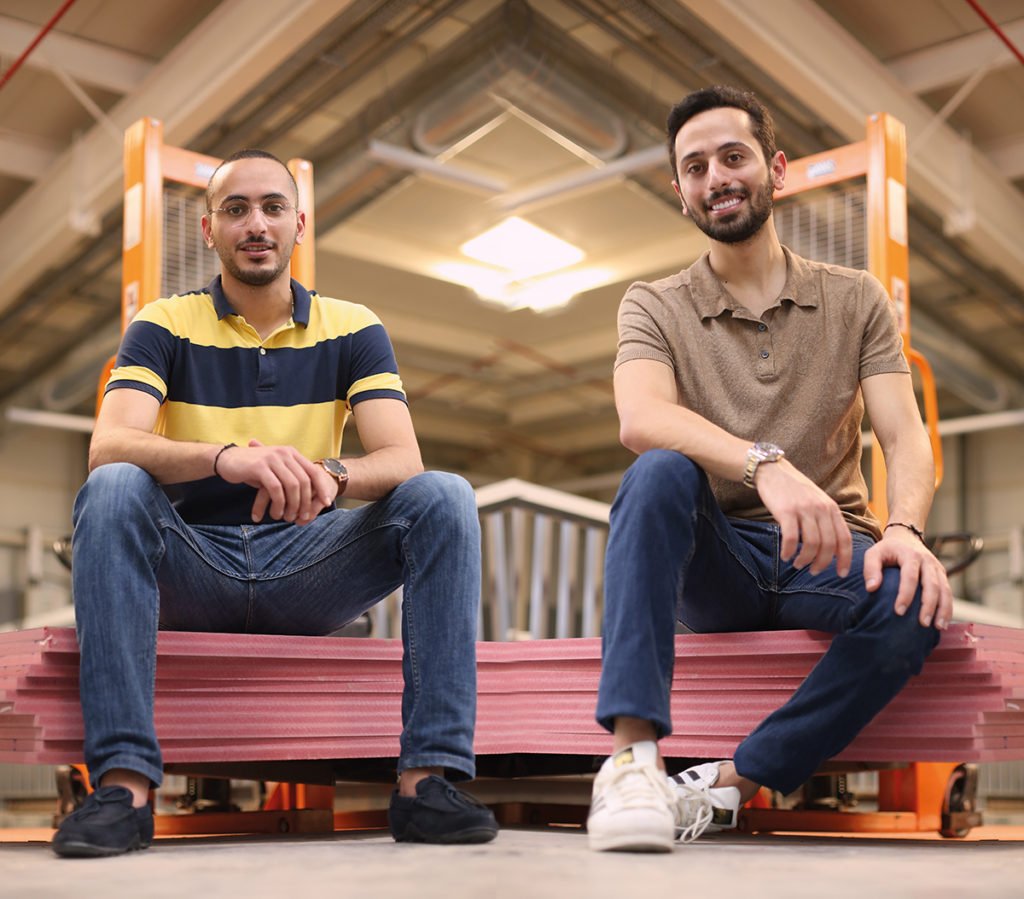 The Solva team redesigned much of the motorcycle, adjusting the outer shape, material and the centre of gravity. "We are putting together the right equipment. The right motor, controller, battery, battery management system, and more," Yousif says. Solva is working with a Spanish firm to go further and to produce Solva's first electric motorbike, which is to be unveiled in 2020.
Solva also partnered with fuel-cell manufacturers to acquire cells of a required range without sacrificing speed. They developed a cooling system that allows the battery to operate efficiently in high temperatures.
"While we were doing the trials, Yousif got a brilliant idea to plug in data sensors and trace performance data, such as battery usage, rider performance, and so on," Mohammed says. "In using this data, we went into another round of pilot [testing] where we put the same data sensors on piston-engine motorbikes and plotted the same graph which we had previously done for electric motorbikes. Then we compared the two graphs and realised that the performance graph of the electric bike almost matched the same graph of the other bike."
In fact, Solva Technologies has two parts: the hardware part, Solva's motorcycles, and the software part, a proprietary data-control unit.
"Our software platform collects the data and keeps optimising itself to guarantee the most efficient vehicle to the user," Mohammed explains. "For example, if you use an electric bike for a daily average of 150 kilometres, after operating it for two months, the bike will optimise itself to grant you those 150 kilometres that you do per day. Regardless of whether you drive your bike at the speed of 80km/hr or 100km/hr, the bike will automatically fit itself to match your needs" through a combination of messages to the driver, speed control and organising how deliveries are fetched.
Solva attracted a $130,000 pre-seed investment round from Masdar City (Abu Dhabi Future Energy Company) and oil-and-gas giant BP's investment arm, Catalyst. It was just in time. "Once we were done with the minimum viable product (MVP), we were financially drained," Mohammed says. "Both of us used our end of service from the jobs we had resigned from to focus on building it."
However, he has no regrets. "I only take calculated risks. It is true that I invested everything in Solva, but I know that what I'm doing is a contribution to my society. Even if Solva fails, it will inspire another entrepreneur who will be able to take my technology and scale it better than I am. So, am I scared of failure? No. And it is because I fell into that trap with my two previous start-ups when I was trying to create that one perfect product before trying to get any market traction with it. I would spend all my money building a product that was perfect in my own eyes, forgetting that the market might have a different view of it than me. So, I ended up losing all my money on a product no one wanted. That is why I advise other entrepreneurs to test the product, to get some traction, to get the complaints and allow people to criticise it because that customer will use it once that issue is resolved. Make fixes and put it back into the market."
In June 2018, Solva Technologies won a $50,000 Accelerator Programme Grant from the Sharjah Entrepreneurship Centre (Sheraa). "The money we got from Catalyst was used to develop the MVP of the platform while our money was invested purely to come up with the MVP of the hardware," Mohammed explains.
"At the time of our participation in Sheraa's programme, we knew what the platform should look like—we had the system requirements well defined, which was the one of the most challenging parts of the work," Yousif adds. "Sheraa's grant played a crucial role in supporting us during the process of implementing our hardware. Without implementing the hardware, our software would have been obsolete."
The funds and mentorship from Sheraa helped Solva to advance its commercialisation stage. Solva has 25 motorcycles on the roads in Dubai and Abu Dhabi, and operations should soon begin in Sharjah. Clients include Zaatar w Zeit, Pizza Di Rocco, and Golositalia.
"In this sector, companies don't own the bikes and that is a smart way to do it," Mohammed says. "What I do is that I match their lease even if I bear some of the costs on my shoulders. I, of course, want the company to be profitable but I would never allow that to compromise our vision. Our vision is to help people to switch from piston to electric and I will do whatever it takes to achieve that."
In the coming months, the brothers say, the start-up will add 25 Solva motorcycles to their fleet.
Solva is lean, with seven full-time employees and five interns. Yousif says plans include expanding across the GCC, with interest already in Saudi Arabia, Kuwait and Bahrain."It is a dream for every start-up to expand globally, but are we ready for it? No, we are not," Mohammed says. "We will be ready when we raise our seed fund."