A children's film festival crafts a creative generation
Eight years since its foundation, the Sharjah International Film Festival for Children and Youth is an increasingly important presence on the international cinematic stage.
Robots who graft human hearts onto themselves. A grandfather preparing his grandson for his eventual death. A stateless refugee child who sees the ocean for the first time. An old man on a mission to find a single photograph of his long lost father.
Adventures were plentiful at the Sharjah International Film Festival for Children and Youth (SIFF) in October, where 132 films were screened, 59 of them by young people. A junior jury judged Go On, an animation by Emirati student Hind Al Mail, the Best Child-Made Film.
Al Mail's feat is all the more impressive once you learn that she is a self-taught animator, having accumulated the tricks of the trade through YouTube videos and apps. Her film embraced the idea of "never giving up," she says, while also dealing with environmental issues like plastic pollution. The main character is a penguin who longs to fly, as it watches a plastic bag float by in the wind. As the resourceful penguin ties the bag to itself so it can take to the air, a bitter bird thwarts the endeavour, sending the penguin crashing back down to earth. The animation took Al Mail, 17, some three weeks to make. "I used to dream of being an animator, to be able to make people smile," she says.
SIFF is the brainchild of Her Highness Sheikha Jawaher Bint Mohammed Al Qasimi, wife of His Highness the Ruler of Sharjah, who wanted a film festival for children, made by children, and a vehicle to help Emirati filmmakers into the industry. Sheikha Jawaher Bint Abdullah Al Qasimi was tapped to start the festival in 2012. In the first year, she received 131 submissions from 42 countries. This year, SIFF received 1,454 submissions from 86 countries.
"I feel my ambition and enthusiasm to do more every year," Sheikha Jawaher says. "Each event we host and activities we plan are bigger than our project delivery capacity."
"It's one of the most important cities in the region to make films in and also to screen your films," says Saudi writer and director Abduljalil Al Nasser, who won Best GCC Short Film for Fifty Thousand Photographs. "Sharjah has become an art and culture centre that attracts the best talents in the field."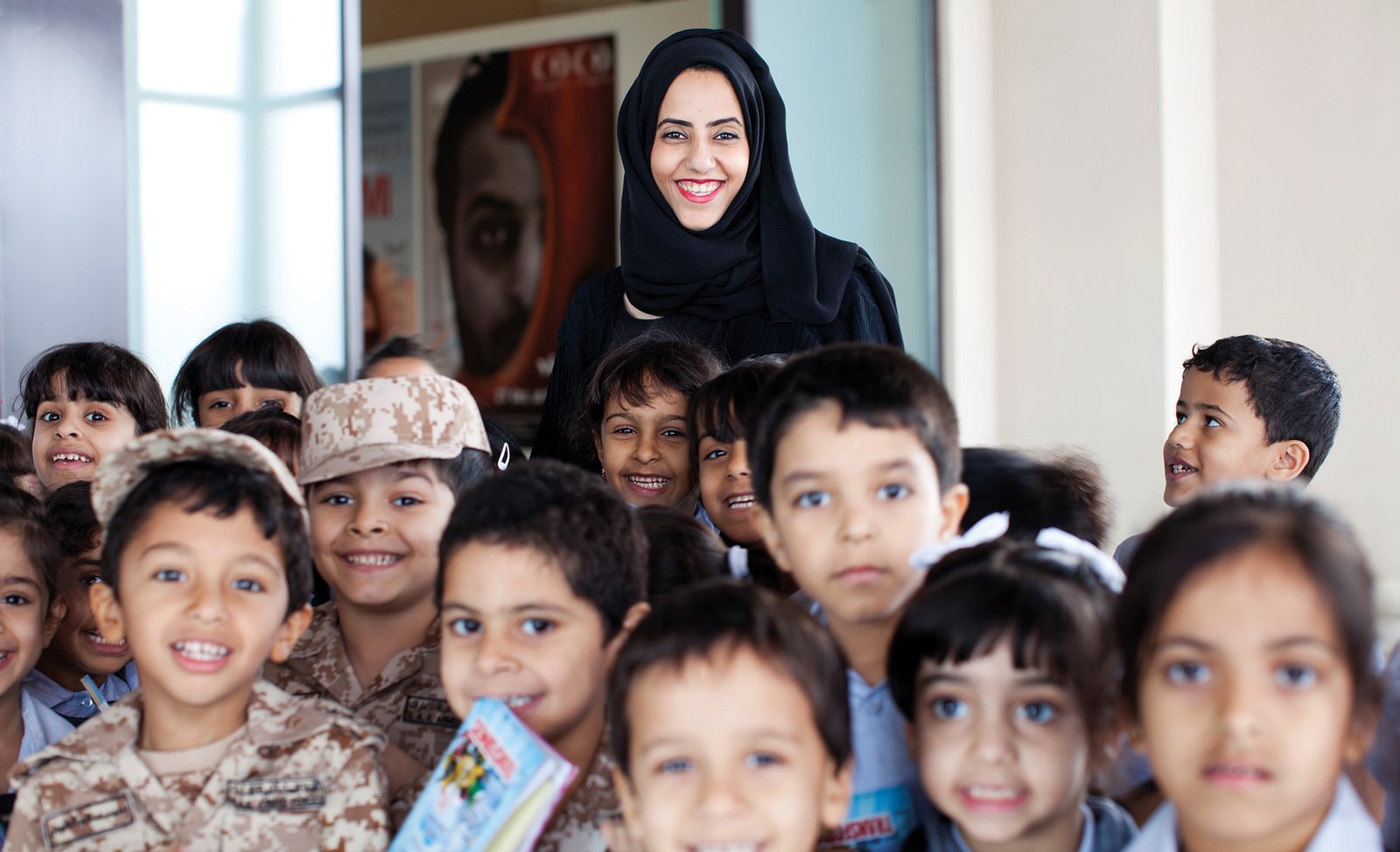 Film transports us to new worlds, and helps us see our own with new eyes. Especially for children, film can stretch the imagination and subtly teach lessons.
"As a mother, I'm not on a mission to show my children the so-called 'right direction.' If we constantly tell our children what is good for them and what they must do, it steals away the chance for them to explore their interests and develop their creativity in a way that is more natural," says Sheikha Jawaher. "We want to build an educated generation, who, through the medium of film, can project their values and culture effectively and realise their dreams through the art of filmmaking, instead of being just end-users who don't have the depth or the critical thinking to analyse good cinema."
The theme of this year's SIFF was "Films Inspired by Books," to complement Sharjah's status as UNESCO's World Book Capital. One film based on its paperback counterpart was The Travelling Cat Chronicles, inspired by Hiro Arikawa's best-selling book of the same name. Japanese director Koichiro Miki brought the beloved book—about Satoru's attempts to find his cat, Nana, a new home—to life. Others, however, based their films more loosely on novels, such as Russian director Tatiana Kiseleva, who based her film Perfectly Naughty Kids on a story by Ksenia Dragunskaya called Medication for Obedience. In this film, Dr. Pyatkin has an unusual problem: the children he is in charge of are too well behaved, leaving him to try and make them naughty.
The festival also dealt with heavier topics, premiering the first SIFF original production, Safe Zone—Four Years Later, a short documentary that highlights the indomitable spirit of young refugees. It was funded by Sharjah Media Arts for Youth and Children, the foundation known as FUNN that promotes media arts and creative talent among UAE youth.
Refugees also feature in the film Bachir in Wonderland, which won Best Documentary Film. Directed by Els Duran, from the Netherlands, the film tells the touching story of a small boy who lives in a refugee camp in the desert but dreams of swimming in the sea. With fellow filmmaker Evelien Verhof, Duran travelled to the Sahrawi refugee camps in Algeria and became determined to tell their story. The pair spent a week shooting there, and then travelled with Bachir to Barcelona where he had the opportunity to attend a summer camp, and to fulfil his dream.
"Winning the Sharjah award will definitely contribute to our career as it helps us to continue doing our work, having faith that we can make something meaningful. More specifically, we can start researching the possibilities of making a second film about Bachir and his teenage years in Spain," Duran says.
The difficult subject matter shows how far Sheikha Jawaher has brought SIFF, raising the bar on quality and consciousness. In the early days, she had to win over a good number of people who weren't convinced that the festival would be good for their children.
"We faced some challenges with mothers who were afraid that their children would be impacted [by] the movies, due to the nature of some that contain tragic incidents of children living in harsh conditions," she recalls. "I made a great effort to have the parents as partners, to collectively work on educating children on issues unfamiliar to them, such as poverty and a lack of safety or a loving family. We want our children to understand and appreciate their living conditions."
The inaugural festival in 2013 was modest, with morning screenings for public schools at the Jawaher Reception and Convention Centre, and for private schools at the Grand Cinemas (now Novo) in the Sahara Centre. Venues opened to the public in the afternoons and weekends. But Sheikha Jawaher was already making plans for filmmaking competitions, workshops and speakers.
In 2015, the festival screened 175 films from 20 countries, Oscar-nominated Japanese film The Tale of the Princess Kaguya was on the bill, and there was a special showcase for movies made by child refugees. In 2016, the festival partnered with the UN World Food Programme in the Zaatari refugee camp in Jordan. As well as distributing food, films were screened in the camp. In 2018, high-profile attendees included Dutch-Palestinian filmmaker and producer Hany Abu-Assad and Walt Disney animator Brian Ferguson.
The 2019 edition was held in seven venues across Sharjah, and, for the first time, in Dubai. It also changed its name—adding youth, as well as children—reflecting its expansion to teenagers.
It attracted big names, such as Emirati poet and film director Nujoom Al Ghanem, Kuwaiti actor Abdulrahman Al Aqeel, and Abdullah Al Junaibi, an award-winning Emirati filmmaker known for his films Bahar (2013), The Path (2012) and Kaimrah (2017). Al Junaibi spoke at the opening event and sat on the jury. He stressed that the festival was crucial for the continued success of the UAE film industry. "It helps to build the country," he said. "Cinema is an international language, and by knowing this language we can reach further."
One outstanding film, Al Nasser's Fifty Thousand Photographs, was inspired by a time in Saudi history, in the 1980s and 1990s, when people were led to believe that personal photographs were forbidden, so they destroyed them. Al Nasser wrote about a man who had lost his father at a young age, and who never got to see him because all the photographs were destroyed. He visits an elderly photo collector in an attempt to find his father.
Al Nasser says the "energy and passion" at the festival will stay with him and that the award will help him write and develop his next project: a feature film.
Emirati director Al Junaibi agrees on the importance of the festival. "Because I give [film] training for children in places like Dibbah, Khorfakkan, Kalba, it was something really close to me," he says. "In the region, we don't have any other film festival for children. In the future, I'd love to see more work being done by children."
That's already being planned. Sheikha Jawaher says 2020 will be an even bigger event, with more youth participation and greater international involvement.
"We want to establish a creative Arab generation capable of building an Arab heritage, who employ cinema to address its socio-cultural issues and aspirations," she says. "But most importantly, we have shown children and youth that cinema is accessible and that it is an art they can be involved in creating. We have stoked their creativity and encouraged them to dream without inhibition."