A CURVED WHITE BACK ending in an upturned fin glides along the glass-like surface of the Khalid Lagoon. It's no whale. It's a BluePhin rubbish-eating AI-driven robot. It's also a shining example of the vibrant start-up environment in Sharjah, whose skyscrapers bristle at the water's edge.
BluePhin Technologies was founded in 2018 to offer low-cost solutions for cleaning up waters, a precious commodity in the United Arab Emirates. BluePhin acts like a Roomba for bodies of water, hoovering up some 370 water bottles at a time. The goal is that it will collect up to 350kg of rubbish in two hours and will prevent 500 million tons of carbon dioxide from leaking into the atmosphere every year by ensuring that plastics are recycled not discarded. It will also track pollutants and monitor water quality. 
BluePhin's made-in-Sharjah innovations attracted the attention of Bee'ah, an environmental management company that has zoomed from start-up itself in 2007 to more than 6,000 employees today. 
"Bee'ah is currently working with one of our sustainability start-ups, BluePhin, helping with the development of their autonomous water waste-collection vehicle that will ultimately be part of Bee'ah's waste-management fleet," says Najla Al Midfa, CEO of Sharjah Entrepreneurship Centre. "It is a testament to the massive potential for corporate innovation that comes with investing in start-ups, and we are keen to encourage that mind-set across the private and public sector." 
Sharjah is home to 1.4 million people and 45,000 small and medium-size enterprises. "When it comes to Sharjah, many are surprised that it has an entrepreneurship scene, though this misconception is being rapidly debunked," Al Midfa says. "Sharjah continuously benchmarks itself against the best. It is this philosophy and long-term focus that has made it a centre for the arts, tourism, and quality education, and it is what will cement its place as an entrepreneurial hub as we invest in the economy of the future." 
Sharjah Entrepreneurship Centre, known as Sheraa, or "sail" in Arabic, is a start-up accelerator—or "ecosystem builder"—headquartered at American University of Sharjah (AUS). "Since our launch in 2016, the core of Sheraa's mission has been our founders," Al Midfa explains. "We sought to invest not in the latest technologies or trends, but in people, because we believe people are the drivers of positive change. Entrepreneurship is one way to generate this change, and thus Sheraa serves as a platform for start-ups to be built and grown into ventures that will contribute to job creation and the growth of the region's economy." 
Sheraa is planting the seeds of entrepreneurship early. "The opportunities that the hub provides on campus for an undergraduate like me played a large role in me finding my passion for entrepreneurship," says Simran Chowdhry, who as a student at AUS co-founded BluePhin Technologies with Irfan Vakkayil and Anand E.P. "Sheraa plays a pivotal role in turning the student into an entrepreneur and founder, by bridging several gaps along their journey." 
In just three years, the accelerator's four programmes (Idea Lab, Pre-Seed, Seed, and Series A) have helped validate over 150 ideas and graduated over 70 start-ups, which have raised more than US$37 million in investment, created 500-plus jobs, and generated over US$24 million in cumulative revenue. 
Sheraa's model was initially envisaged as a three-month accelerator where entrepreneurs would come in with their ideas and graduate with fully grown start-ups. "Through our first programme, we discovered a gap between someone coming in with just an idea on a napkin and a growing start-up ready to pitch to investors," Al Midfa says. "This is also apparent among pitch competition or hackathon winners, who despite being granted the capital to develop their start-up, do not know what the next steps are. In response, we developed our Pre-Seed programme to help fledgling start-ups develop their prototypes, identify their customers, and enter the market." 
This is how Sheraa has operated from day one, Al Midfa says, "running lean experiments that help us connect the dots and better understand the gaps in the ecosystem. We have spent the past three years analysing those gaps, taking in feedback from our stakeholders, and developing our programmes accordingly." 
Today, Sheraa is a "full-stack" venture-building experience that guides start-ups from napkin to market. It provides equity-free grants to high-performing start-ups, as well as connections to investors and corporate and government entities. In particular, Al Midfa says, Sheraa's founding partners—Air Arabia, Bee'ah, Crescent Enterprises, Sharjah Media City, and Sandooq Al Watan—have been extremely helpful in forging closer relationships between start-ups and corporates. 
This is not without a legitimate reason, Sharjah is a booming market. The emirate has launched numerous free zones including Sharjah Publishing City and Sharjah Media City, and soon the Sharjah Research, Technology and Innovation Park, which is expected to further strengthen industry-academia partnerships. Last year, Sheraa opened its second hub at the University of Sharjah campus. 
Al Midfa adds that in addition to producing a steady flow of skilled entrepreneurs, ensuring the ecosystem thrives also requires instilling an entrepreneurial culture, entrepreneur-friendly policies, and access to capital. 
"It is interesting to note how an entrepreneur's profile shifts depending on their level of experience," Al Midfa says. "Younger founders—fresh graduates or students—tend to be more willing to take risks and experiment because there are fewer consequences if they fail. On the other hand, they lack experience and are often easily discouraged by failure because they are not as aware of the challenges that come with entrepreneurship." Founders in this category, she says, are also most likely to struggle with societal and familial pressures to "get a real job," especially as they often lack the capital needed to keep their start-ups running without savings or steady income. Sheraa's early-stage programmes teach fledgling entrepreneurs the required skills and provide grants to help them develop their products and launch in the market.
Najla Al Midfa, CEO of Sharjah Entrepreneurship Centre, is no stranger to start-ups herself, having co-founded job platform Khayarat
Lessons Learnt by Najla Al Midfa
"I realised early on that the true measure of success is the difference you have made in people's lives, and for much of my life I have been driven by the desire to cultivate that positive change. Along the way, I have learned:
If you want to lead change, you must be willing to challenge the status quo and see how far you are able to push the boundaries. No one is going to give you permission.

As the saying goes, you are the average of the five people you spend the most time with. It is therefore important to ensure that you surround yourself with people who are as passionate, ambitious, and eager to learn as you are. This is why at Sheraa, building the right team of dynamic talent who believe in our mission has been such a vital component to our success.

Setbacks are inevitable, but how you respond to them is the difference between failure and growth. You must be willing to view challenges as learning opportunities, and continue to invest in your own development."
The approach to older founders is almost entirely the opposite. "While they are more experienced and usually have enough capital to support themselves while they work on their start-ups, they are also more set in their ways—risk-averse and less accepting of feedback," Al Midfa says. "Sheraa works closely with our founders to cultivate the growth mindset they need, breaking down founder assumptions and encouraging those who think they have all the answers, or that they should have all the answers, to take a step back, re-evaluate, and be willing to take feedback as it comes. At the Series A level especially, we also place a lot of focus on the importance of people management, corporate governance, and cultivating the right culture within their businesses. Building a team that is the best fit for the start-up can be challenging, but it remains vital for their success." 
Sheraa is generally industry-agnostic, but it is encouraging start-ups in five sectors: travel and tourism, sustainability, social enterprise, the creative economy, and Emirati innovation. To date, the accelerator has received 1,900 applications, and 52 of its start-ups have continued growing after graduating from the programme. Furthermore, other results include more than 230 business connections facilitated and more than US$533,000 of grants and awards presented to founders. Al Midfa and the Sheraa team have dedicated over 2,000 hours of one-on-one mentorship and coaching sessions, personalising their approach according to founders' profiles. "It has led to some of our start-ups completely transforming their internal processes, or reformulating their business model," Al Midfa says. "In some cases, we have even helped bring founders and teams together." 
In fact, Sheraa brought together BluePhin Technologies founding team, says Chowdhry. Sheraa also helped the three founders to license the company, and it was Sheraa's Supplier Matchmaking Day that brought them in touch with Bee'ah. 
Al Midfa herself co-founded a start-up, Khayarat, a platform helping high-potential Emiratis find jobs and internships in the private sector. "This was inspired by my work at Khalifa Fund for Enterprise Development, where I found that there were so many ambitious, intelligent Emiratis out there who were unaware of the opportunities available to them in the private sector," she says. Today, apart from Sheraa, she is the vice-chairperson of Young Arab Leaders and a board member of Endeavor UAE, and explains that she is willing to dedicate her time to any initiative that sits at the intersection of three E's—entrepreneurship, education, and employment. 
Constant discovery is part of the learning process for Al Midfa as well. "I learned to embrace the fact that no one is ever going to know it all, as long as you take that first step, you can live your way into the answer," she says. "It is not easy, nor pleasant, because struggle and failure are a natural part of the learning experience. However, it is essential for growth. This is the mindset Sheraa aims to cultivate." 
The region as a whole is still unaccustomed to accept failure and is thus less open to experimentation and taking risks, all of which go hand in hand with entrepreneurship, she says. To serve as an inspiration, Sheraa has developed an annual flagship event, the Sharjah Entrepreneurship Festival (SharjahEF), attracting over 3,000 attendees and internationally renowned names such as Gary Vee and Vishen Lakhiani in only its second year. 
This focus on human capital is partially due to its location. Sheraa works closely with the American University of Sharjah and University of Sharjah, which together are home to over 25,000 students. However, it has given rise to one of the misconceptions about Sheraa. "Many are also still surprised to learn of the calibre of start-ups graduating from our programmes—Joi Gifts (a gift delivery service) and Slices (a food and beverage company on a mission to transform eating-habits across the UAE) are but two examples of the level of start-ups we attract," she says. "Because we are based in University City, the assumption is that our focus is only on student-led start-ups. This is not the case; our founders are of all ages and nationalities, and have gone on to raise millions in investment and revenue." 
While Sheraa will continue working to ensure it is the best resource for turning an idea into an investment-ready start-up, they are also looking to provide a soft-landing to established tech start-ups that want access to the Sharjah market in the future. "Particularly the ones that play to Sharjah's priority sectors, such as those in the creative sector, sustainability, and aviation and tourism, all with the goal of having more start-ups be based here," Al Midfa explains. "Similarly, we aim to build a more global network, around the GCC as well as beyond, to help our start-ups access and scale into these markets. No ecosystem can operate in a silo, these partnerships will be essential to our growth and the continued success of our start-ups." 
While Gulf countries are working hard to transition from petroleum-based to knowledge-based and tech-enabled economies, there is still much untapped potential. "The market remains fragmented, and while there is a massive pool of funding available, this is usually channelled outward rather than into local talent," she says. "But I remain optimistic that as the start-up ecosystem grows this will improve. There is plenty of opportunity for collaboration across the GCC, and entrepreneurs will find it increasingly easier to access new markets." Saudi Arabia, now widening its doors to business, offers a key opportunity for start-ups looking to expand, she adds. 
Sharjah is poised to be a thriving entrepreneurial hub in its own right. "There is no doubt that entrepreneurship is vital towards building a strong national economy that plays to the strengths and talents of its people," Al Midfa says. "Our leaders and our communities recognise this, and Sharjah's entrepreneurial ecosystem is fortunate to have the strong support of the government, in addition to growing support from the private sector who are looking to collaborate and help start-ups grow." 
Tamara Pupic is the managing editor of Entrepreneur Middle East
Padmini Gupta and Milind Singh
Co-Founders, RISE
gorise.co
Padmini Gupta, co-founder and CEO, and Milind Singh, co-founder and chief product officer, launched their fintech start-up Rise in 2017 to democratise access to essential financial services for millions of migrants globally. The UAE-based start-up enables the country's domestic-help workers to gain access to a bank account and assists with remittances. The wife-and-husband entrepreneurial duo aims to launch insurance and other related services in the future. They graduated from Sheraa's Accelerator Programme in 2018.
"When I first saw Sheraa, I was amazed at the immense energy in such a wide space, Gupta says. "There were college students, entrepreneurs at various stages, and mentors all around. It's Najla Al Midfa's dedication to the start-up scene and building the ecosystem that is manifested in this, and of course HE Sheikha Bodour Bint Sultan Al Qasimi [Sheraa's chairperson] whose ideology and support shines through all that Sheraa and the Sharjah Entrepreneurship Festival are about."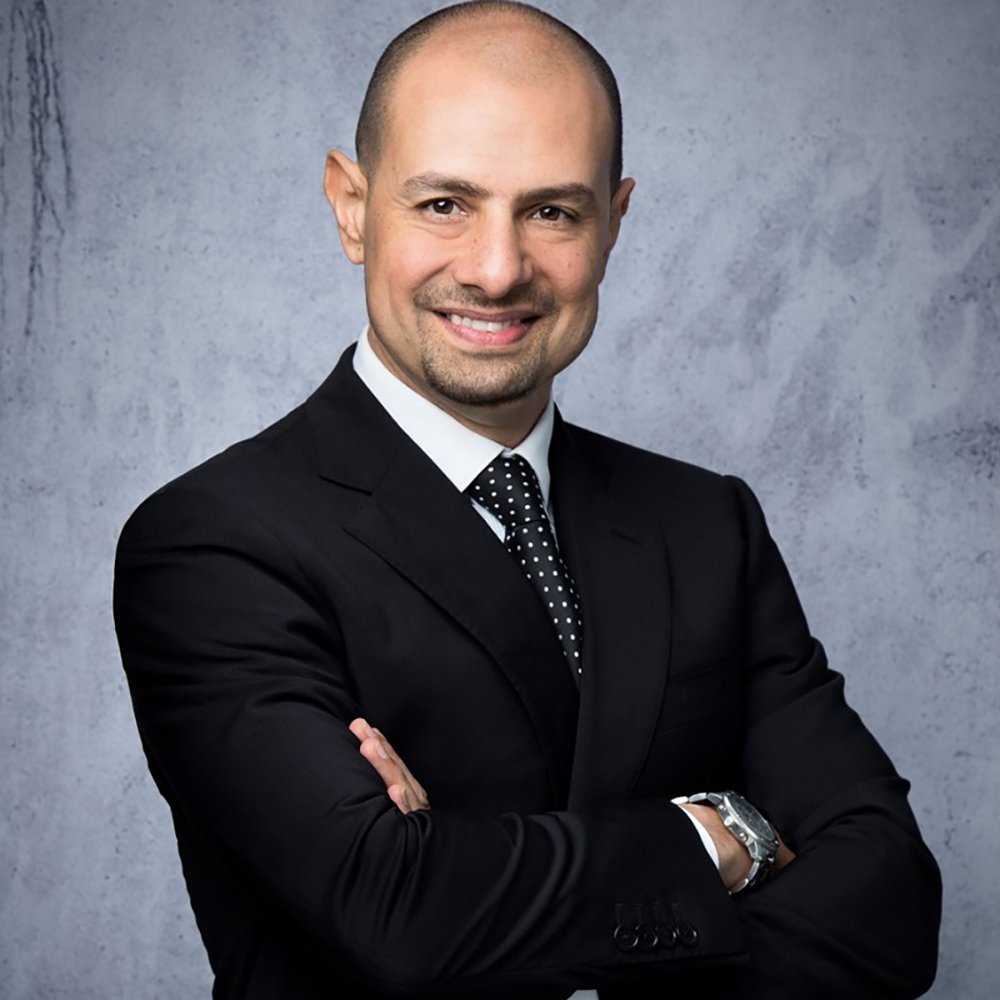 Ihab Fikry
Founder and CEO, ALMENTOR
almentor.net
Almentor, a B2C and B2B video-based digital-learning platform that offers informative video courses and motivational talks in both Arabic and English, was part of a Sheraa cohort that graduated in June 2018. The platform was founded in 2016 by Ihab Fikry, who holds a PhD in strategic marketing and has published four best-selling books on management in Arabic. "In the Middle East, employment opportunities are very low. Statistics show that median youth (18-24) unemployment has gone above 31%. That is alarming," he says. "Therefore, focus and effort have gone towards creating entrepreneurs out of young talent."
Sharjah has long been known for its inventive spirit, Fikry says. "HH Sheikh Dr. Sultan Bin Mohamed Al Qasimi, the Ruler of Sharjah, envisioned Sharjah as a hub of innovation and a centre of education. His vision put Sharjah in a unique position to become the generator of the region's entrepreneurship ecosystem."
Siddiq Farid
Founder and CEO, SMART CROWD
smartcrowd.ae
A graduate from Sheraa's Seed Programme in 2018, Smart Crowd allows people to build a portfolio of assets which could become a secondary source of income. Smart Crowd is a regulated real estate investment crowdfunding platform for the MENA region which enables investors to purchase a stake in a rental property for as little as 20,000 AED (US$5,400) and co-own the asset. With property ownership out of reach for many, this platform allows investors to buy a share in a rental property, earn income on their investment, sell their stake, or use the accumulated returns to invest in other properties.
"Sharjah has historically been an industry-based economy, but has great potential to become a tech hub, given its focus on education with state-of-the-art facilities and University City," says Siddiq Farid, founder of Smart Crowd. "Traction, visibility, and funding are critical for start-ups to thrive and Sharjah can certainly do more to attract more capital and market its start-ups. For that reason, Sheraa's support at the grassroots level is critical as they help build a strong foundation for budding entrepreneurs. To me, Sheraa is the foundation that allows founders to stand tall and turn their dreams into reality."
Gregor Amon and Kevin Czok
Co-Founders, HOTEL DATA CLOUD, hoteldata.cloud
Founded in June 2016 by Gregor Amon and Kevin Czok, Hotel Data Cloud is a solution to enable hotels to win back control of the descriptive content of their listings. Its global platform stores a variety of data, images and regularly updated information in a standardised format, sourced directly from hotels. The information is then sent out to booking channels and other industry stakeholders.
In 2019, HDC joined the Sheraa Series A programme. "Everyone who is involved with Sheraa goes the extra mile and does everything in their power to support their start-ups," says Czok. "Sheraa expects the same level of commitment from all their mentors, but also from the participating start-ups." One of the qualities that makes Sheraa stand out, Czok adds, is that it goes far beyond other hubs that merely facilitate connections. "Yet despite this great work," Amon says, "Sheraa should improve their visibility among start-ups themselves. We only discovered their programme by chance, luckily just in time before the application deadline passed. Since entering the programme, we have become enthusiastic ambassadors of Sheraa."
Elie El Tom
Founder and CEO, YALLA PICKUP
yalla-pickup.com
Elie El Tom, founder and CEO of Yalla Pickup, aims for his start-up to become a Careem or Uber for small commercial vehicles, enabling customers to book the nearest pick-up truck that is suitable for the product they would like to move and to make the booking via its Yalla Crowd app or website, enabling them too to track the delivery from collection point to delivery.
Yalla Pickup was a finalist in the first batch of start-ups to enter the Sheraa Accelerator Programme, in 2017. "What I personally found unique is [the] interconnection between different entities in Sharjah, meaning that at almost every event you can meet Sheraa's team alongside someone from the Sharjah Asset Management team and venture capitalists such as Crescent Enterprises." This, he says, gives entrepreneurs the ability to accelerate quickly as they have easy access to the market and to funds.