BY KAAMIL AHMED
CROSS-LEGGED ON A HOSPITAL BED, Rozeya cradles her baby, swaddled into the folds of her headscarf, the two of them are finally resting after weeks of struggling to find a hospital that could help. Her child's heaving chest and laboured breathing had been torturing Rozeya. She feared the girl was suffering from pneumonia, but clinics around her new home in Kutupalong, Bangladesh, now the world's largest refugee camp, could not find a solution.
"I went to a hospital near my home and they gave medicine but it only helped for a few days, then she was ill again," says Rozeya, 25, who has only just arrived at the Hospital on the Hill, built and run by Médecins Sans Frontières (MSF) and part funded by Sharjah's The Big Heart Foundation. They had to get there on foot but decided to try. "We heard from people that we could get treated here so I came with my husband."
Outside is a dusty, chaotic environment that grew to shelter some of the 740,000 Rohingya refugees who fled a 2017 military operation in Myanmar, which killed at least 6,700 from the Muslim minority group. Ambling over or around the hills that the camp has awkwardly settled upon, there is constant movement of refugees carrying aid and supplies to their homes, the noise of never-ending infrastructure work to make the camp more manageable and small marketplaces that offer something other than lentils and rice to eat for those who find ways to earn a little money. The Hospital on the Hill offers respite.
The camp's raucous daytime is muted inside the sanitised, air-conditioned paediatrics ward where every bed around Rozeya is filled either with mothers sat identically to her or slightly older children stretched out on beds, staring at the ceiling. All are silent aside from a parent trying to tease a smile from her child.
"The idea was to set up a hospital in the middle of the mega-camp," says the project's co-ordinator, Sophie Pallez. "We're the only hospital right in the middle, a key point for patients to be able to come to us in an emergency situation."
The hospital doesn't perform surgery but can stabilise emergency cases and treats a range of medical problems. It has 52 beds—though it has been built to hold up to 100—with wards for children, adults and pregnant women and an intensive care unit, as well as services for outpatients and a team that seeks to monitor what the camp's health needs are. Unlike many of the other clinics in the sprawling refugee settlements (as of last December, there were some 212 health facilities, according to the World Health Organisation), which work through queues of patients as quickly as possible, it is set up to care longer term. Families eat hospital-provided meals by patient beds, a play space with swings and toys overlooks the camp and a prayer room serves both men and women.
A plaque by the hospital's entrance announces The Big Heart Foundation's support, donating some three million dirhams (US$817,000) for its creation. The foundation's work with the Rohingya had started with support for the UN's refugee agency, UNHCR, through donations of more than a million dirhams for plastic sheeting and bamboo to create refugees' shelters. Involvement grew deeper after TBHF Director Mariam Al Hammadi visited the camps in 2017.
"During my visit, I got to know that over a million people in those camps had little or no access to health care, food, education or sanitation services," she told Hadara, explaining why the foundation decided to support MSF in building a hospital. "There are many factors leading to the outbreak of epidemics that are swallowing people whole. Most of these deaths can be prevented with basic health services and inexpensive vaccination."
Kutupalong refugee camp has existed since the early 1990s but was a fraction of its current size until Myanmar's 2017 military operation, when it swelled to almost 630,000 people. Around 300,000 other Rohingya, some from previous exoduses from Myanmar, live in other camps in the same corner of southeastern Bangladesh along a single stretch of road running parallel to the Myanmar border. Kutupalong's furious expansion involved no planning. Trees were hacked away and tents pinned into the hillsides to house people who had spilled over the border on boats or through fields and ended up living in forests and by roadsides. Hospitals, latrines and water pumps followed in similar haste, and many would have to be replaced later as the camp was reorganised. MSF's existing facilities treated many of the wounded as they poured in but were on the main road, now miles away from the edges of the expanded camp.
So the Hospital on The Hill—one of three MSF hospitals in the camp, the first was opened in 2009 and continues operating today— was built on that distant periphery, at a place where some Rohingya, with nothing else to do in a place that does not allow them to work, study or leave, would wander out to watch the sun disappear behind the last of the green hills. But even that forest has since gone, swallowed by a camp that has only grown and now surrounds the hospital with more bundles of bamboo and tarpaulin—and more patients to treat.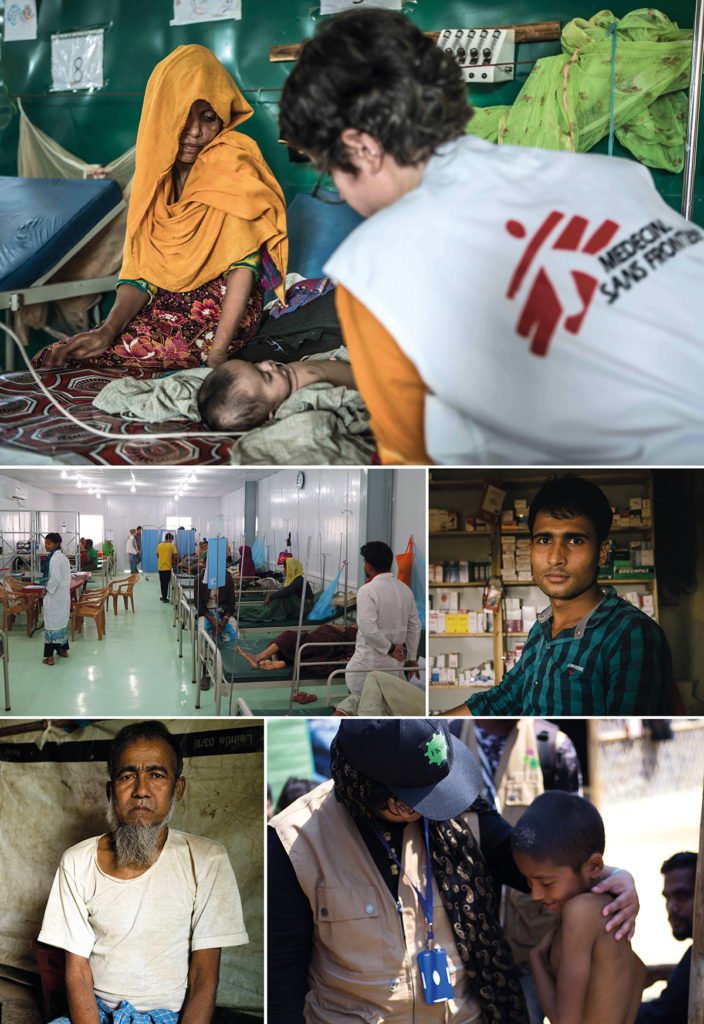 Even with the hospital placed so strategically, patients struggle to reach it because of the camp's sheer size and the lack of transport. Its narrow, unorganised alleyways can also present challenges for the medical staff themselves despite brick roads that have been laid since the camp's expansion.
"The environment with the hills and the roads is challenging at times for people to access the care," says Megan Benckert, medical activity manager at the Hospital on the Hill. "We wanted to get a patient the other day, I tried to send the ambulance but it wasn't possible. We had to go on foot and carried a stretcher to get the patient."
According to the 2019 call for funding—which has sought another US$900 million to serve the Rohingya—each 24/7 primary healthcare facility in the various camps serves 54,000 refugees, more than double the recommended number. Access to facilities is lopsided, not all provide the same services and patients often do not know which ones can best serve their needs. An assessment released in February by the UN's migration agency, IOM, which manages the overall humanitarian response, stated that in some areas up to 40% of people have extreme health needs. The right service can be miles away, in a camp that in many places can only be navigated by foot.
The Hospital on the Hill—a secondary healthcare facility, of which there is also a shortage—plays a major role, it was set up with plans to serve 180,000. Some 90% of MSF's funding come from private donations, like TBHF's.
Healthcare challenges
"The difficulty is that there are so many people here, so when we get to the clinic we have to wait in the queue for our medicine and then we're not given good quality medicine," says Nur Ahmed, a lifelong asthma sufferer who often has to be carried to a hospital by his relatives. The IOM assessment found that more than 70% of refugees face problems with waiting times at hospitals.
"Sometimes we wait such a long time that the clinic closes and we end up not getting treatment," Ahmed laments.
Only a few days earlier he had started to recover from a mysterious swelling in his stomach and leg. A nearby hospital treated it but did not explain what had caused his ailments.
Lying on the floor next to him, his son writhes around in discomfort, rubbing the bumps that have emerged all over his body, to avoid scratching them. He is one of more than 40,000 who have caught chicken pox after a recent outbreak.
Illnesses like chicken pox or measles are exactly what worry Rashida Begum, 30, whose 15-day-old son is recovering at the Hospital in the Hill, where they were referred shortly after birth when he started having stomach problems.
"Life in the camp is very difficult because there are so many diseases around," she says. Avoiding them is a challenge when families live in simple shelters they often share with their extended family and with little else than plastic sheets separating them from their neighbours.
Jafor Alam has made repeated, unsuccessful trips to health clinics for a stomach ulcer. So he turned to his neighbour, whom he trusted, and is lying on the floor of an informal pharmacy, a saline drip hanging from the tin shack's ceiling and running into his right arm.
The neighbour, Mohammad Usman, 22, offers ad-hoc treatments he learned from his father, who in Myanmar acted as village doctor. In their homeland, many Rohingya struggled to access formal health care because they could not get the permits needed to travel to hospitals. Usman treats up to 50 people a week, many of them with stomach ailments but others with more serious heart problems. Sitting in front of a cabinet filled with boxes of medicine he brought in from the local market, a stethoscope hanging from it, Usman explains, "Doing this work lets me help people, they feel safe and comfortable coming here."
A lot of Rohingya rely on similar solutions—turning to their neighbours with a bit of healthcare knowledge when hospitals are too far away, or closed, or simply because they feel they do not get good treatment there.
Dr. Farzana Khan, a palliative care consultant and the founder of Fasiuddin Khan Research Foundation which also works in the camp, says that though there are hospitals in every camp, she has seen numerous cases of patients being misdiagnosed or given the wrong treatment. That has partly to do with interns and new doctors having to fill the gaps created by the sudden influx of refugees, but she says she has also noticed that key medicines are not always available. She discovered this when treating two children with hyperthyroidism, a condition that can cause erratic weight loss and heart problems.
"I sent these babies to many of the hospitals to get them medicine. They said it is not available," she says. "But this medicine is very cheap, it should be there."
The children could have been treated if the right medicine was given at the outset, Dr. Khan adds, but the delay complicated their condition further.
"They have improved a lot but they are not going to be cured because they have to take medicine for the rest of their lives. If these babies had been given medicine when they started this condition, they would have been cured."
After dark
Life in Kutupalong shifts with the sun's position in the sky. At sunrise, the soft light and lingering morning mist silhouette the tents and the hills they stand upon, offering an early calm that is shattered when the city-size camp awakes. With little personal space, everything is done in public. Children dart to and from school or play on the dusty alleyways between shelters, families wash their clothes at communal water pumps and the space in between is constantly filled with people collecting aid or water or going to visit relatives or hospitals.
Sunset offers another break, a chance for families to sit outside their tents away from the blistering sun, but when the night comes it sends most people back inside. A lack of security within the sprawling camps, especially for women, makes it a more threatening place that most families prefer not to navigate after dark, when foreign aid workers are also gone.
That becomes a problem during medical emergencies. The electric tuk-tuks and rickshaws that somehow rattle through the camps' slapdash roads disappear, so reaching hospitals, including the Hospital on the Hill, can become almost impossible.
"If I have an asthma attack at night, there will be nowhere for me to go. I will die," says Nur Ahmed.
A network of ambulances exists for night emergencies but doctors question whether it is effective, partly because there seem to be misunderstandings over what it can be used for.
"There are numbers to call the ambulances but they're only for pregnant women," Ahmed says. "If we call it for anything else they might not come back here again."
The Hospital on the Hill's project coordinator, Sophie Pallez, disagrees. "MSF has its own ambulance and we send it to any emergency. However, at night movement to and from any health facility is challenging because of the topography of the camps, the narrow pathways blocking the ambulance from reaching the patients, and the lack of lights." 
The Big Heart Foundation is looking at how it can fill some of the gaps that remain in supporting the Rohingya, even with big projects like the Hospital on the Hill in place.
Much of that work is likely to be support for UNHCR, and, alongside health care, could involve providing food, clothing and education projects.
"One can never be prepared enough for the stark, dismal reality and acute suffering of refugees—no matter how well they are described in media and television. I will never forget the sights I saw in Kutupalong, and will never stop being thankful for what we have
in this country [the UAE]," TBHF's Mariam Al Hammadi says.
"While a tremendous amount of help and support is flowing in from all over the world, a lot more needs to be done to meet the humanitarian needs of the Rohingya refugees, wherever they are seeking asylum today," she adds.
"No one deserves to live in the kind of plight I saw the Rohingya community suffering in Bangladesh."